We develop, build, manage and invest in quality housing
where our families would be proud to live.

We believe in mutually beneficial, win-win relationships. Some of our partnerships have lasted three decades or more. As we see it, our greatest strength is the people and partners within the JES family of companies.
Memorial Hills, a new low income housing tax credit development located in Joplin, Missouri, held their Groundbreaking Ceremony on Tuesday, March 13, 2018. Community leaders and development partners celebrated the commencement of construction along with the rest of the community. More than 50 community members attended the celebration, which included a brief program with The Honorable Mayor Michael Seibert of Joplin, Missouri as the keynote speaker of the event.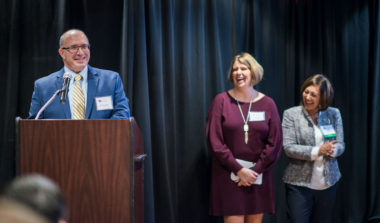 Every year in December, JES Holdings holds an Employee Recognition and Staff Meeting to recognize our dedicated employees. The event begins with presentations from directors of each company, highlighting their accomplishments and upcoming endeavors. JES Holdings considers it a privilege to have such generous and dedicated employees, and the Employee Recognition & Staff Meeting is one of the many ways we show our appreciation.